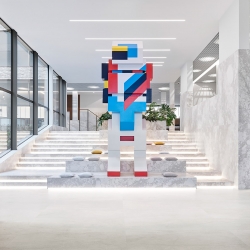 Origin 70 is IVC Commercial's new collection of luxury vinyl tile flooring, allowing you to design freely with the ultimate in performance through quality, loose lay and design flexibility. With loose lay installation and plank and tile formats that allow you to perfectly mix and match carpet tiles, IVC Commercial's Origin 70 luxury vinyl tile collection brings design freedom to flooring. floor for projects. Designed and manufactured in Belgium to be fully recycled, the projects also benefit from a more sustainable floor.
Origin 70's designs explore the fundamental connection with nature, bringing calm and peace within. With the realistic tactility of an ultra-matte, embossed finish in register – where texture precisely follows pattern – each Origin 70 design is authentic and original. Origin 70 planks and tiles are also cut from an extra-large pattern to avoid obvious repeats and to further enhance the natural look. The extra-wide pattern also allows IVC Commercial to create larger plank and tile sizes that are designed for use with its carpet tiles and planks, such as the Rudiments and Imperfection collections.
Perfect compatibility with carpet tiles is only possible with Origin 70's loose lay format. Installed the same way and eliminating the need for transition strips, Origin 70 Loose Lay makes floor covering design easy to make multi-material flooring in high traffic areas in offices, hotels, housing, retail and more. Its ultra-durable 0.70mm wear layer excels in the busiest commercial spaces and is protected by Verene, a unique ultra-matte finish that resists scratches and makes cleaning easy.
Made in Belgium, the Origin 70 Luxury Vinyl Tiles collection is made from 100% REACH compliant materials of European origin. With freestanding installation flexibility and a 100% recyclable construction, the collection can also be recycled at the end of its life.
Origin 70 is part of IVC Commercial's new Origin Luxury Vinyl Tiles family, including the Origin 55 collection for design freedom that puts people first with quality installation, loose lay and better acoustics.
For more information, please visit www.ivc-commercial.com